Journalism
Journalism as a Profession: Tips for Applicants
1806/2014
Journalism has been romanticized in the imaginations of many. One person says that he/she wants to be a journalist so they can travel around the world interviewing celebrities, etc. There is another polar view where one may think that he/she will never be a journalist, because he/she can be sent to a 'hot spot' in the world or will end up like Gongadze.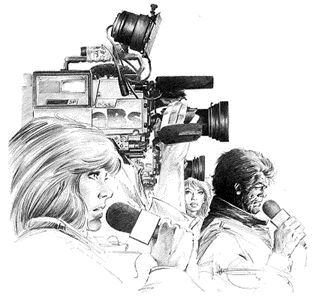 Depending on which direction one's view goes, it will influence the specifics of the type of journalist one becomes. There is no need to explain that the information (including external) will differ from a radio journalist to a journalist working in the field or a TV studio.
Every professional has basic knowledge and skills. Therefore, if choosing to become a journalist, try to imagine yourself already a skilled specialist.
Here is a list of qualities with my comments. The list is not written in order of importance but in random order.
Imagine a journalist effectively performing his/her professional duties. He/She will be a person who:
Is socially mature
Possesses techniques of journalistic work (this is taught in high school)
Is well aware of the field in which he writes (it is better to be an excellent professional in 2 areas than mediocre in all)
Is well aware of social processes and needs, actual problems of the country and the region
Is unconventional, a creative thinker (journalists are the real authors of many neologisms («hippies») , aphorisms and clichés («black gold», «ship of the desert», etc.)6. Is principled, courageous
Is able to communicate with people, to understand them
Understands the importance of public opinion, the interests of the audience, and can interact with them in life and publications
Can contribute to the progressive tendencies of societal development
Has an analytical mind (this is needed to write in the genre of «correspondence», «article»)
Is observant (yes, you must be an ideal person who notices everything; first of all, it adorns your materials and adds the «effect of presence»; and second, due to observation and an analytical mind, you can make «The Forsyte Saga» out of an ordinary story)
Is operational (provides relevant information as soon as possible, especially in our society where everything changes very quickly).
Disadvantages of the profession:
The work of a journalist, as of most office workers now, is associated with a lot of emotional overload, i.e. you need to be stress-resistant. In some cases, good physical fitness may be useful
Irregular working hours
Advantages of the profession:
Profession for creative people
You can express your opinion through the written word
Flexible work schedule
It's becoming increasingly rare, but if you're lucky, you'll be able to travel and visit places where civilians are not allowed
Ability to meet and communicate with politicians, celebrities and other talented people
Places to work at:
Publishing agencies
Information agencies
Print media
TV
Radio
Advertising, marketing, digital- agency
Press services
Online publications
When choosing where to work, read about the pros and cons of the media.
The main thing for any journalist is a creative approach to the profession and the ability to express their thoughts.
So what do you think… what «data» must a journalist possess?