SEO
Running Backlink Analysis the Right Way
1401/2016
Author is Dmitriy Fugol, SEO specialist of Digital Bee digital agency.
So, you've got SEO agency to help websites climb the top of search engine results. Whenever somebody turns to you for SEO assistance, you probably start with the basics like content optimization or website performance. But then you may discover that traffic isn't that impressive as you've expected. This is because you should have done backlink analysis first.
Why is backlink profile so important? First, it helps you spot and fix some optimization flaws. And that is by far easier than removing all low-quality backlinks. Secondly, it allows you to evaluate previous optimization campaign or see whether there was any at all.
Later, based on analysis results you can develop efficient optimization strategy tailored to your client's needs and matching his/her website.
But before you start analyzing backlink profile, there are few vital things to keep in mind. Below there is a detailed guide on how to build profound backlinks analysis.
How to Analyze Backlinks Efficiently
If you are about to run backlinks profile analysis, you need to focus on its quality. For this, you should know how quality the current link portfolio is. There are a variety of criteria to help you define it, the most important being:
1.     Backlinks quantity



Here I suggest Ahrefs. This tool will help you see the number of backlinks and referring domains. Of course, the information you will get isn't enough to analyze backlinks thoroughly, but it is a good start to defining the scope of work lying ahead.
By the way you can use free alternative to Ahrefs – http://openlinkprofiler.org/.
2.     Variety
Regarding variety of backlinks, there is one thing to keep in mind – the more diverse, the better. Simply said, the website should have a variety of links coming from different resources such as blogs, social networking websites, breaking news sites, etc. 
I would recommend using Ahrefs again. There may be hundreds of backlinks pointing to the site and evaluating all of them is physically impossible. Here you should act selectively. You need just to upload the chosen websites' URLs to a chart in SEO tool. This way you will know where most links lead from. If there are no blogs, for example, then you should include guest blogging to your future link building strategy.
3.     Relevancy
However, it is not only about the number of links and their variety. Another important factor that contributes to websites ranking is backlinks relevancy meaning how topic-relevant are the sites that link to your resource.
Suppose you have a website about traveling. Then links from other travelling-related platforms would add to your website's authority and thus make it more attractive in Google's eyes.
4.     Natural anchor text list
What is meant by "natural" here? Everything is quite simple. Usually, anchor text is called natural when it contains both commercial and non-commercial keywords. If you overdose with anchor keywords, your website may get into troubles.
Today the common trend in link building is to use backlinks with brand's name and naked URLs. In Ahrefs they are marked this way: <a>noText<⁄a>. Using this SEO tool you can sort links according to the type of anchor text and then get natural anchor text list. It will later help you develop link building strategy and select most appropriate keywords.
5.     Links Type
There are two types of links – dofollow and nofollow. Ideally, their number should be balanced. However, the preference is still given to dofollow links. They take 66% while nofollow links cover 30% of total links number.
Thanks to Ahrefs, you can get a detailed report on the quantity of both link types. If it reveals that you have too many dofollow links, add some nofollow links to make anchor list text look natural. And vice verse, add more dofollow links for better website promotion.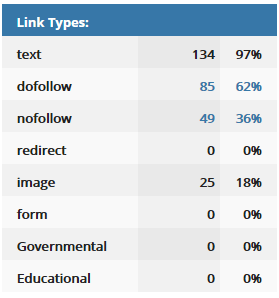 6.     Page distribution
Here is where you look at links distribution and what pages get most of them. Usually, the home page contains about 30-50 links, while all the rest go to other pages or blog posts.
With Ahrefs, you can get a list of the most linked pages and those getting fewer links. The report will show you where you should throw your link building efforts in future.
7.     Dynamics
If you want to know how efficient link building campaign was check out the links flow. Ahrefs has a very convenient diagram to help you along this path. Natural backlinks built is shown by even curve smoothly rising to the top. No flops or sharp upturns.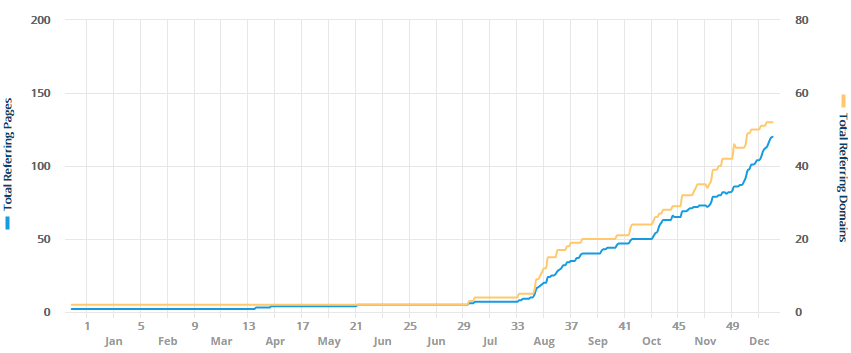 If you see that diagram looks unnatural, it means that website is at hazard or that competitors are running an attack campaign against it.
Proceeding with Website Backlink Analysis: Quality Indicators
The last but not the least important criterion that makes website backlink analysis more accurate and profound is the quality of link donors. This is one of the most time-consuming checkups, that's why it deserves special attention.
Besides Ahrefs, there are some other helpful SEO tools that will make the process easier. So, when checking out quality of link donors, mind the following:
Website authority. Both Moz.com and Ahrefs will give you accurate results;
Domain's age. Enable RDS bar in your browser. It will show you first records about the website you work on. Based on this data you can define site's age;
Incoming and outgoing links ratio. Quality website usually has more incoming links. Use SEOQuake to check it out;
A number of indexed pages. The more, the better;
Traffic quantity and its dynamics. Obviously, search engines like much-visited and trusted resources. Consequently, they get a higher ranking. Similarweb will help you check how much traffic generates the website you analyze.
Evaluating quality of link donors will take you considerable time, but you can make it faster using Checktrust.ru (available only in Russian yet). This SEO tool indicates site's level of trust. Although it is paid tool, there are about 500 free trials available.
Analyzing backlinks you will gain more skills that will help you move on and gain new experience in SEO industry.