SMM
Targeted Advertising in the VKontakte
2302/2014
Is it more effective to pay for show ups or clicks?
Just about a year ago, social networks had limited functionality for business promotion: working with negative reviews, branded pages, that is called the SMM. Now you can generate very high quality traffic in social networks. Selecting the right strategy for targeted advertising, you can earn the attention of the target audience, its loyalty and also increase sales.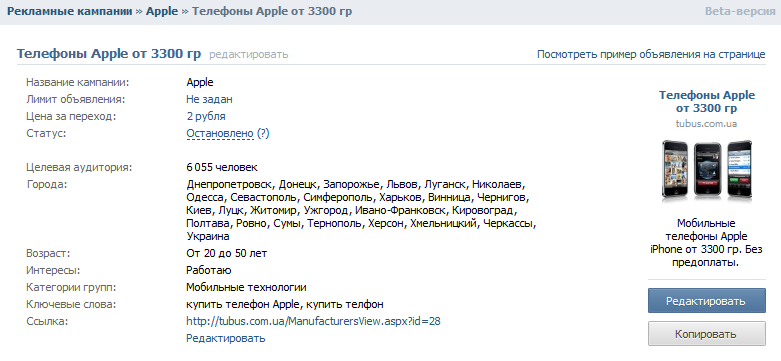 In social networks, today we are going to talk about VKontakte, there are two ways to place ads: for the transition (CPC) and per thousand shows (CPM). In both cases of placement there is a crucial parameter – the parameter CTR (clickability: the ratio of the number of clicks to shows). Customers who are interested in your ad, click it, thereby increase the CTR and the number of ad shows per second.
There rules as to the design of ads in VKontakte do not exist. The only difference is that when working for CPM there is no description text for pictures, but it is relatively large – 90×120 pixels. Creating ads with short, bright and clear slogans are perfect for promotion services and various price aggregators, main goal of which is to get a new user in their project. But most important thing, that many advertisers forget about is when working with payment for CPM, even if your KPI equals the cost of a click, you can greatly optimize your advertising costs.
There is an example of how to optimize the cost of your advertising campaign by using pay per clicks model.
Advertising campaign was expected to attract buyers for the online store of mobile phones and tablets. Targeting was on the Ukrainian audience (residents of regional cities), age between 20-50 years, Interests: work, the category of groups: mobile technology.
| | | | |
| --- | --- | --- | --- |
| Period | CTR, % | CPC, rub. | Cost, rub. |
| 1 | 0,101 | 1,5 | 1500 |
| 2 | 0,900 | 1,6 | 1600 |
| 3 | 0,760 | 1,7 | 1700 |
4800 rubles were spent in total.
The similar situation was with CPM.
Promotional campaign supposed branding of a new portal about mobile phones and tablets. Targeting broader audience: Ukrainian and Russian audiences, age: 20-50 years, the category of groups: mobile technology.
| | | | |
| --- | --- | --- | --- |
| Period | CTR, % | CPC, rub. | Cost, rub. |
| 1 | 0,130 | 0,9 | 900 |
| 2 | 0,800 | 1,4 | 1400 |
| 3 | 0,600 | 2,0 | 2000 |
4300 rubles were spent in total.
As a result, this example shows how to save 9.6 % of the budget, working on payment for ads shows.
But, anyway, any advertisement (regardless the subject) after the start of ads shows, will lose its level of CTR. As the number of users is limited. Most of them have seen your ad and decided to go to it or not. After a significant decrease of CTR, ad shows must be disabled. You need to analyze the statistics constantly. VKontakte allows viewing the statistics every second, so the effectiveness of ads can be seen immediately after launch.